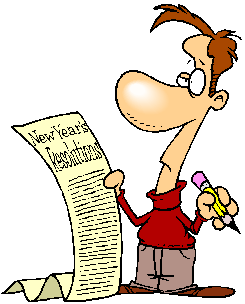 So did anyone make "New Year's Resolutions?"

I've never liked the term. I think it makes them sound too... I'll-do-it-at-the-beginning-of-the-year
-and-when-February-hits-I'm-done. Know what I mean? I DO think it's good to make some new yearly goals though. Especially since you almost always don't live up to par, in some aspect, the year before. At least that's how I am. I'm realistic though. I only give myself one or two that I know need major attention.

What will mine be for this year?
-- have Family Home Evening on a regular basis
-- get rid of the back-fat


Of course, I do have

many

other things I want to get done this year, but these are things I haven't yet mastered. And like I said--I'm realistic about this. If I fail--I'd like the list of failure to be short.